This post is for you if you have treatment rooms which the operator and client occupy during an appointment or specialised equipment which is required in order to administer the client's service i.e. a machine for IPL. We refer to these rooms and specialised equipment as "Resources".
Simple Salon makes it possible for you to set up your rooms and machines as Resources, then assign these resources to specific services. This means that any time a client books a service which has a resource assigned to it, the appointment will be automatically allocated to the room it is performed in or the machine it requires.
Once you've assigned the resources to the services, the system will do the rest of the thinking for you. By clicking the red Appointments menu in your Appointments page, you can flick between the Show Operators and Show Resources column views. Make your appointment as per usual with the operator (via Show Operators view), then the system will put the appointment in the assigned resource column (in the Show Resources view). You can also manually move appointments between operator columns and between resource columns.
If you've already got your resources set up, then read on as you're about to find out how productive your rooms and machines are. If you haven't yet set up your resources, do that first.
How productive are your Resources?
Go to Reporting, then Report List, scroll down, click the Resources Report and choose your desired date range. Each of your resources is listed and at a glance, you can see the number of visits each resource has had, the revenue generated from these visits and the total time client has spent in the room or using the machines. In the Show Details column, click the Visits link for any resource to see which services have been booked in that room or on that piece of equipment.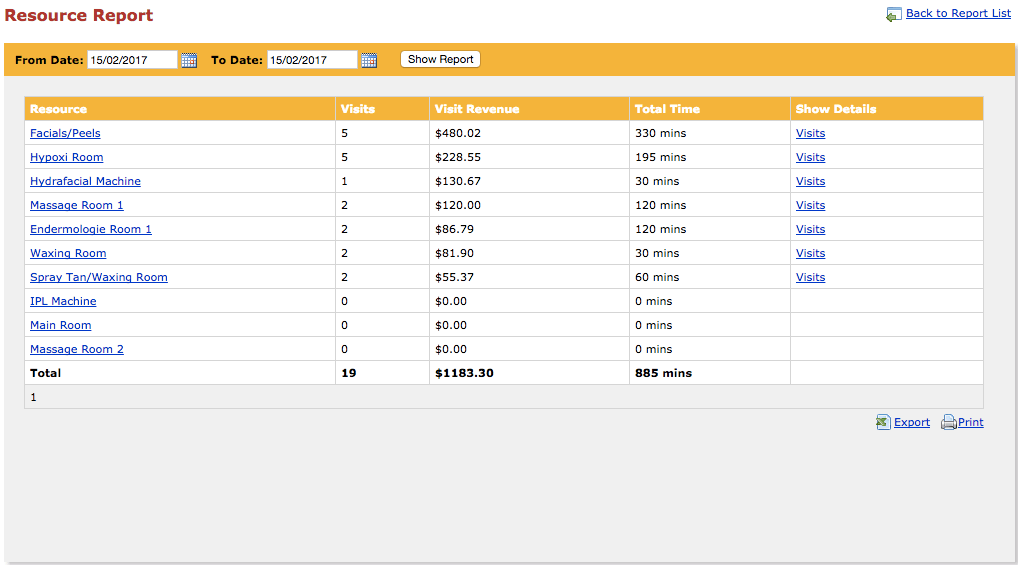 Get the most out of this powerful feature by assigning your resources to your services, and then utilise the Resources Report to see how productive each one actually is. Doing this will allow you more time with clients and improve the quality of the treatments provided by your beauty salon. Once you embark on this kind of analysis, you can implement strategies to make your resources even more effective.
Stay tuned, as next week's post looks at tips and tricks for how to make your resources more productive and profitable. Once you've followed the tips in this post and know which rooms/machines need a little extra attention, you'll then be ready to learn how you can get more clients booking the services that require these resources.
If you haven't yet got Simple Salon, sign up to get started today and make your salon grow.