Welcome to the Simple Salon blog
Check here for the latest updates, tips and tricks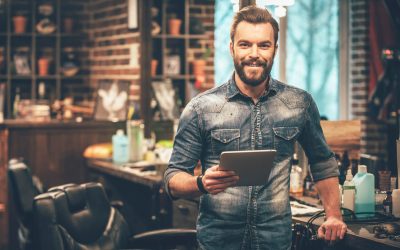 Achieve new business growth in 2017 by turning on some powerful features in your Simple Salon account.
If you were with us a year ago, you would remember we did the same thing at the beginning of 2016… how'd you go with implementing the features we talked about? I'll jog your memory—we enabled automatic Appointment Reminders, Loyalty Points Program, 1-Touch Marketing, as well as implementing a regular visit to your Marketing page. If you didn't enable all of these features, not to worry, it won't take long to catch up. Click here to see what we did, and go ahead and enable these features first.
To kick off 2017 we're looking at a few different features that you can enable in your Simple Salon account to help business this year. Some of these changes will result in more clients and more bookings, and some will result in a more seamless, efficiently run salon. So here we go… this January it's time to implement the following changes.
For those of you who have a tablet floating round the salon, make use of your Client Capture Form
Instead of handing new clients a clipboard with paper on it, or asking them over the counter what their name and number is (and proceeding to get the spelling wrong), just hand them the iPad (or whatever tablet you're using in the salon). On the iPad is the Client Capture Form, which the client enters their personal details into and taps Save. As for existing clients, hand them the iPad too, because they can also use the Client Capture Form to update their personal details. Click here to see how you can use the Client Capture Form to streamline your salon operations, and make your clients' salon experience even smoother.
Use your Simple Salon to make your salon more paperless (going green means less expenses for you)
Did you know it only takes a couple of clicks (or taps, if you're on a tablet) to view your client history from the Appointment page? By making the switch to viewing your client histories digitally, instead of printing off client cards and operator day cards (so much paper), your salon becomes more paperless. Also, how about all of those paper receipts? There's actually no need to print them, instead have them automatically emailed to your clients at the end of their transaction. It's time to turn on a few features in your Simple Salon account to make your salon greener, all the while saving you on the cost of paper. Click here to see how you can turn on these (and more) green features.
So, just to recap, go ahead and start using your tablet to capture your clients' details and save on paper by becoming a little more digital in the way your salon operates. Then you'll be on your way to a more successfully run salon.
If you don't yet have Simple Salon, click here to get started today.